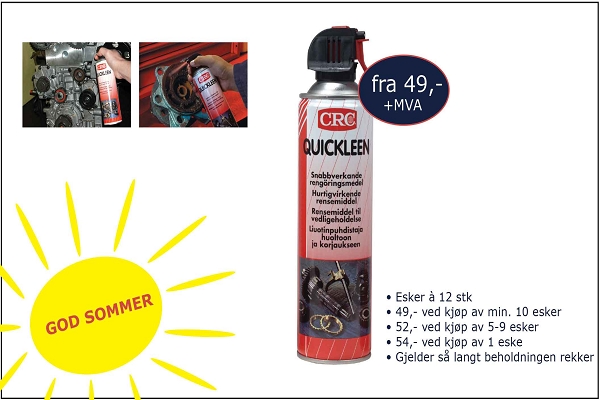 Quickleen summer promotion
We're celebrating the arrival of summer with a special offer on CRC Quickleen cleaning spray. Quickleen is a fast-acting cleaner and degreaser to remove oil, grease, dirt, water and other contaminants. It dries quickly and leaves no residue.

Minimum purchase: 1 box (12 cans per box). Prises are per can and exclusive of VAT.
- NOK 49 when buying 10 or more boxes
- NOK 52 when buying 5-9 boxes
- NOK 54 when buying 1-4 boxes

Chemicals, rags and absorbents are one of our fastest-growing product segments, and we are constantly expanding our product range. We offer high-quality products at competitive prices and keep most items in stock at all times. Our product catalogue includes paint, foam and sealant, grease, cleaning agents, rust treatment products and much more. We also offer highly competitive prices on rags for industrial use and oil-absorbents such as sheets, rolls, cushions, sweeps and booms as well as kits in various designs.

To place an order or make an enquiry, please use the request form on our website, email us on post@john-dahle.no or call us on +47 51 64 69 90.

We should also like to take this opportunity to wish all our customers a very good summer. Remember: we operate with ordinary opening hours throughout the summer and can be reached on our 24-hour service line at any time.

Have a great summer!